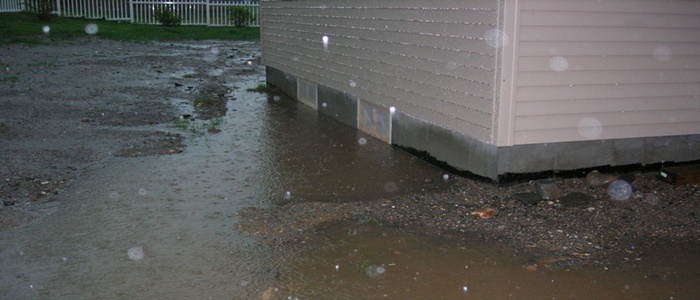 Damp, musty smells and wet walls are signs that water is getting into your basement or crawl space. Rainwater runoff from your roof or landscape soaks into the ground and often collects near your home – that is against basement walls, crawl spaces, or in the soil beneath your home's foundation. This can lead to basement and crawl space flooding, mold and mildew growth, or worse, your foundation settling and cracking.
The best way to solve this problem is to collect and pipe the water away from your home before it causes serious damage.
When protecting the value and usability of your property from water damage your goal is to capture excess water, move it away from your home and then disperse or store it in a safe manner.
If you do not immediately address water drainage issues you expose yourself to potential property damage, health issues and "surprise" repair costs later.
Why fix your drainage problem now?
Failure to correctly fix a drainage problem now will cost you more later. Ignoring a drainage problem can quickly result in major repair costs and loss in property value. A homeowner seeking to remediate just one of the property damage issues below could easily spend 2 to 5 times more than the cost of solving the drainage problem in the first place.
Property Damage
Basement or crawl space flooding
Settling and cracking of foundation or basement walls
Wood rot, termites attracted by damp wood
Aesthetics / Usability
Health Concerns
Mold or mildew
Mosquito breeding
Slip hazard
Why Fix With NDS Solutions?
The Wrong Solution, the "Quick & Dirty" Solution: Many homeowners believe they can solve their drainage problems by simply moving dirt (grading) or digging shallow trenches. These temporary fixes do not effectively solve the problem and can actually make the problem worse. The majority of homeowners report that they are unhappy with the results of temporary solutions – and end up trying another approach within 12 months.
The Right Solution, the NDS Solution: A drainage problem is a serious problem that requires the right solution. NDS solutions are easy to install and provide the most effective means to address your specific drainage problem. NDS also provides you with the detailed DIY instructions and support you need to do the job right the first time.It is no wonder that over 90% of professional contractors use NDS products to quickly, easily and permanently solve drainage problems.
---
Robbins and Co. are Foundation Repair and Drainage Solution professionals in business since 1952. CONTACT US today at 206.244.1023 for a no-cost consultation or just to ask us a question. We look forward to talking with you.