Look at the ways Robbins and Company fixes common foundation problems.
Foundation issues can appear in rain heavy climates such as Seattle, these issues are far more common than you might think.
When it comes to repairing a settling foundation, don't settle for anything less than the best. Call today to learn about how you can avoid costly structural repairs. Using only the top of the line products that have proven themselves paired with engineering and years of experience, Robbins and Co. can get your foundation back on solid ground. From cracks to settling, our team will know exactly what to do to solve any issue you may have.
To take care of your sinking and settling foundation, we make use of piering products from Grip-Tite®. This includes both push piers and helical piers. The piers we use are made from high-quality, durable, tough metal materials that will last for many years to come in the soil surrounding your home. Though many companies may offer this as a solution, our team is trained to use these specific products, to ensure a solution that will last for years to come.
Designed with heavy duty steel, push pier brackets, are the first step to getting your homes foundation stable. These are connected to your home by steel brackets driven below your home into the soil, in turn supporting the weight of your structure. Then, high-pressure equipment hydraulically drives rugged steel piers down to solid bedrock or proper load-bearing strata. Keep in mind that this reinforcement is done below ground, so nothing is exposed. Also, each pier is individually anchored and tested for successful load-bearing to ensure stability and durability.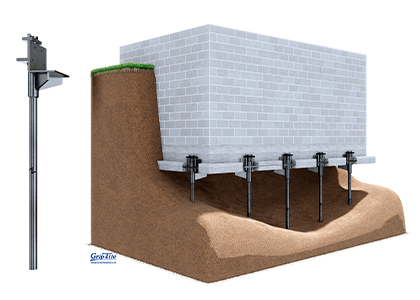 Our team has developed standards that are used on every job to assure the performance of the pier, quality is our number one concern. One out of ten or a minimum of one pier is logged in 1.5 foot increments for the entire depth of the pier. Pressures are logged and the data is plotted for our records and a copy is given to the customer for their records. This information shows the support structure of the soil beneath your home and confirms the remaining piers are at a depth to provide the support. Without this testing we would be unable to confirm the piers are at a depth to provide the support that we are looking for. In addition to the installation data we periodically use digital load cells as a secondary form of testing or as requested by some of the inspectors. For examples:
Finally, the weight of your home is carefully transferred from unstable soil to rock-solid piers so your home or commercial building is secure with the pier system permanently in place and hidden from view.
"My husband and I want to extend our thanks for a job well done. We were pleased by the quick, clean, and professional manner in which our foundation was stabilized this week. You took what potentially can be a stressful situation and made it an easy and painless process for us.
Thanks again to everyone involved from Doug in sales to Robbie and his excellent crew (including Jorge, Chuck, and in particular Kelly). Kudos to all!"
~ S. Slotboon, Seattle, WA
Serving The Pacific Northwest since 1952
We are so confident you will be happy with our work that in most cases we require no payment until the work is completed.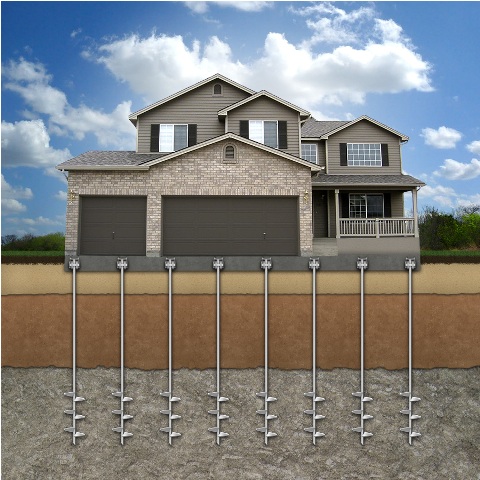 HELICAL PIER INSTALLATION
These piers are mechanically screwed into the ground to predetermined depths and capacities effectively transferring the building load to deep, suitable soils. In some cases, Grip-Tite® Helical Piers may be the best option to effectively stabilize a distressed existing foundation.
Installed in a few days or less
Piers installed year-round
Can be installed in areas with limited access
All support systems out of sight once installation is complete
Cost-effective
Grip-Tite has over 70 years of experience invested in developing a superior product. The engineered design has passed the rigorous testing required to obtain a legacy report from the International Code Council.
The Grip-Tite system is a cost effective way to raise and level your building. It can be installed in limited-access areas. There are no large beams requiring heavy lifting equipment, there is no waiting for concrete to cure, and it can be installed year round. We carry a limited lifetime warranty on the Grip-Tite Push Pier System.