Look at the ways Robbins and Company fixes common foundation problems.
Robbins and Co. utilizes the Grip-Tite® Wall Anchor System to fix leaning, buckling, bowed walls in Seattle homes.
The Grip-Tite Wall Anchor System is a proven, engineered foundation repair method to secure and stabilize deteriorating basement walls. What's more, the system works on any kind of basement wall – concrete block, clay block, poured concrete, timber or stone. View our service area information.
Until now, homeowners had few choices for repairing foundation walls, except to excavate around the wall and build a new basement wall. This solution is expensive, time consuming and destructive to landscaping. Not only that, the problem can recur if the wall is not properly rebuilt or if steps are not taken to correct the causes of the initial deterioration.
The Grip-Tite® Wall Anchor System is a cost-effective alternative to rebuilding a foundation wall. The system uses anchoring plates and rods to stabilize the wall and counteract the hydrostatic pressure being exerted against the wall. By counteracting this pressure, the causes contributing to the deterioration are lessened.
What's more, the system works on any kind of basement wall – concrete block, clay block, poured concrete, timber, or stone. Since this works on a wide variety of walls, it makes it an ideal and effective solution to you bowed wall needs.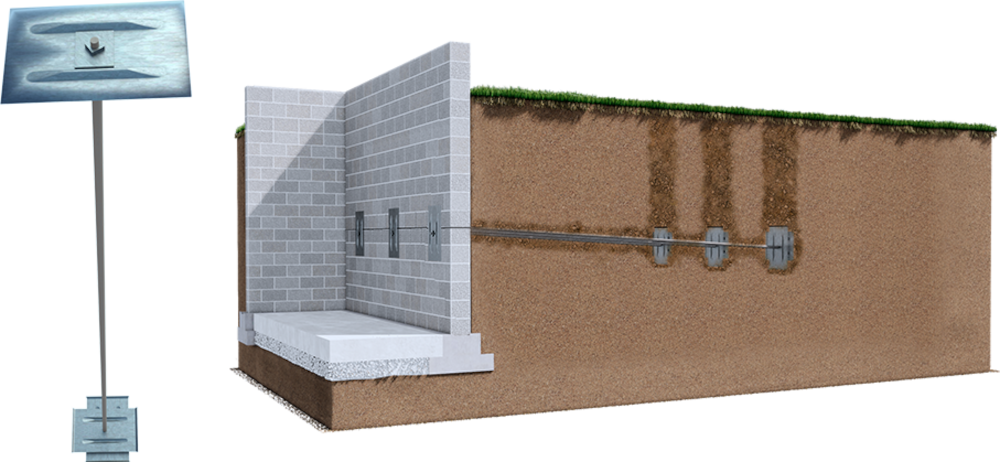 The system is a property owner's alternative to completely removing and rebuilding basement walls that have become cracked, leaning or bowed as a result of pressures exceeding the allowable design capacity of the wall. In layman's terms this means that bowing is often a result of too much pressure pushing against your basement walls, they are built to withstand so much pressure but that pressure increases with moisture and settling.
Serving The Pacific Northwest since 1952
We are so confident you will be happy with our work that in most cases we require no payment until the work is completed.
Installing The Grip-Tite® Wall Anchor System usually takes less than one day, and the technicians will leave your home and lawn as it was before the installation. Anchors are placed in specific locations along the wall, and rod extenders can be added to avoid all decking, cement work, flower beds, and other landscaping. And because the system works with the wall and ground, structural changes to your house are unnecessary.
Whether the cracking or bowing is caused by hydrostatic pressure, expansive soil or another problem, don't risk the investment in your home by failing to address the issue.
Contact Us
Robbins and Co. as your foundation contractor can help you with any bowed walls may be experiencing. Contact us today!
"Robbins and Co was very professional and friendly. They came out to look at the job and gave a quote for bowed wall repair on site. They did work on time, when they said they would and it looks wonderful."
~ B. Petrov, Lynnwood, WA