You may not know it, but the home you love, have put your heart and soul into, and have taken care of for all of these years could be making you sick. There are many potential areas of risk. For example, you could have areas of mold and mildew in your home. These contaminants may not seem like a problem at first, and you may not even know they are there. However, when your moisture problems are not given the necessary attention, they can lead to significant health risks.
What Are the Risks Associated with Mold and Mildew?
Areas in your home that are moist create the perfect habitat for mold and mildew growth. This can be very dangerous! These very small, very hard to see fungi can eat into the structure of your home to damage it, while also getting into your lungs and make you sick. While mold and mildew are problems for everyone who are exposed to them, especially at high levels, those who suffer from allergies or asthma are at an increased risk. This can worsen your symptoms and even lead to life-threatening allergic reactions.
Symptoms of mold and mildew health impact include:
• Coughing without signs of a cold
• Difficulty breathing
• More chronic use of inhalers or breathing treatments
• Lack of concentration and ability to focus
• Difficulty with cognitive skills especially in high-risk individuals such as those very young, very old, or suffering from immune deficiency
If this is happening to you, don't wait to get help.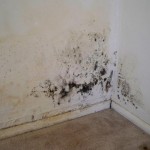 Do You Have Mold and Mildew Problems?
How and why do you have these problems? Even if you think your home is clean and mildew and mold-free, chances are good that your basement is the biggest problem.
• When you look around your basement, do you see areas of water damage or staining?
• Does your basement have a musky smell?
• Is it significantly cooler in your basement than the rest of your home?
• Are you walls, especially along the foundation wet?
For those who have any of these symptoms, now is the time to take action. You'll find that these are the most common sources of mold and mildew buildup-especially under flooring and behind walls. That's when you need an experienced professional to come in and provide not just clean up services, but also moisture repair and foundation protection so you don't have this problem again.
---
Robbins and Co. are Foundation Repair and Drainage Solution professionals in business since 1952. CONTACT US today at 206.244.1023 for a no-cost consultation or just to ask us a question. We look forward to talking with you.